Nella fattoria di Sally Mann, a Lexington, Virginia, una fotografia dei suoi figli domina una stanza,
tanto quanto essi hanno dominato la vita creativa della madre per gli ultimi 20 anni.
L'immagine è notevole per la bellezza innocente, sia dei bambini sia del loro sapere.
Nei loro sguardi di sfida si riassume il lavoro di Mann, che è stata criticata per la sua franchezza,

ma che è diventata soprattutto celebre per la sua onestà. Nel 2001, la rivista Time l'ha definita "America's best photographer."
Mann è una poeta del privato, dalla sua evocazione inquietante della campagna della Virginia ai ritratti intimi dei suoi figli, fino ad arrivare al suo ultimo progetto, un elogio grafico a suo marito, affetto da distrofia muscolare.

E' cresciuta nella Virginia rurale come una bambina "selv

atica", ricor

da che spesso correva in giro

all'aria aperta senza vestiti.
Suo padre, un medico, era un sostenitore dei diritti civili e, dice lei con amore, una persona "stravagante".
Le diede una macchina fotografica quando aveva 17 anni e le disse che gli unici soggetti degni d'arte erano l'amore, la morte con un tocco di stravaganza.
Sally Mann ha studiato letteratura al college per poi frequentare il workshop di

fotografia di Ansel Adams e George Tice, abbracciando la magia della camera oscura.
L'artista ha spesso compiuto esperimenti con la fotografia a colori, ma il bianco e nero è rimasto il suo principale interesse, in particolare la tecnologia fotografica più antica. Usa da tempo una macchina fotografica a soffietto 8 x 10 e ha esplorato i processi di stampa al platino e al bromolio. A metà degli anni novanta ha iniziato a impiegare il procedimento a collodio umido per realizzar

e immagini che sembrano quasi ibridi di fotografia, pittura e scultura.
Sally Mann's farmhouse, in Lexington, Virginia, a photograph of her children dominates a room, much as they have dominated their mother's creative life for the past 20 years. The picture is notable for both the kids' innocent beauty and their knowing, defiant gazes, and it epitomizes Mann's work, which has been criticized for its frankness but mostly celebrated for its honesty. In 2001, Time magazine called her "America's best photographer."
Mann is a poet of the personal, from her haunting evocations of the Virginia countryside, to her intimate portraits of her children, to her latest project, a graphic elegy to her husband, who has muscular dystrophy. She grew up in rural Virginia as a "feral" child, she recalls,
often running around outdoors without clothes. Her father, a physician, a civil rights suppo
rter and, she lovingly says, an "oddball," gave her a camera when she was 17 and told her the only subjects worthy of art were love, death and whimsy. S
ally Mann studied literature in college, and later attended photography workshops by Ansel Adams and George Tice, whose darkroom wizardry she embraced
.
She has long used an 8 x 10 bellows camera, and has explored platinum and bromoil printing processes. In the mid 1990s she began using the wet plate collodion process to produce pictures which almost seem like hybrids of photography, painting, and sculpture.
Candy Cigarette, 1989
Shiva at Whistle Creek, 1992
Night Blooming Cereus, 1998
Black Eyed, 1991
The Dress, 1991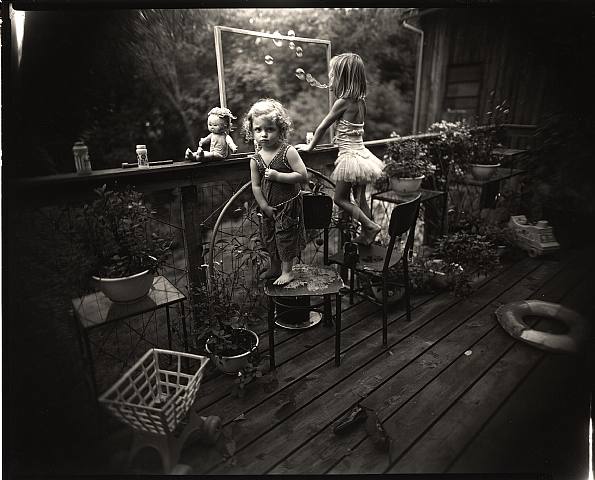 Blowing Bubbles, 1987
Scarred Tree, 1996